Power Point Crop Image
You may want to crop image with those unwanted area such as some wording, or make the image sizing properly in your Power Point Background design.
You can insert the image in by clicking Insert -> Picture -> From File or From Scanner or Camera, for example, You can insert the image from Windows XP Sample picture Sunset.jpg in My Pictures, you can insert it into slide itself or slide master if you want the image display in every slides. After you inserted the image, you can crop the unwanted area by using Picture toolbar, if you do not have picture toolbar display in your PowerPoint, you can enable it by clicking the PowerPoint main menu ->View -> Toolbars -> Pictures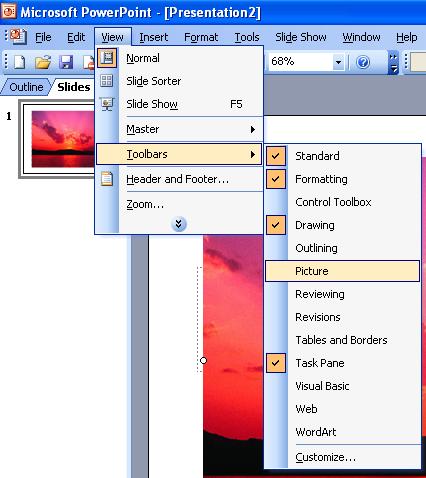 Then the Picture Toolbar appears, you can mouse over each button, the tooltips will display accordingly to you, the 7th button is "Crop Image"


Let say you would like to crop the image to display it like banner, you crop the upper and bottom part by dragging the center handle on the side inward.

Anytime if you change your mind for the cropping, you can undo the cropping by pressing CTRL+Z or clicking the picture toolbar last button "Reset Picture" to restore its original setting.
Now you have the banner style image :)
Of course when you look for images from the web, please read the terms and conditions whether it is FREE to use, some are FREE for non-profit organization and some are not, becareful.

Click here to see what is Power Point Templates